It's easy to set your favorite to be the default search engine in Firefox. The Firefox browser is not owned by a company that also owns a search engine as Chrome and Bing are. It is more open about the choices you have when searching.
Table of Contents
Change the default search engine in Firefox
When you begin to type a search term into the search or address bar, you'll see suggestions begin to populate below the address/search bar. At the bottom of that list, you'll see a bar displaying the icons of the following search options.
Google
Bing
DuckDuckGo
Amazon
eBay
Wikipedia
You can select one of those icons to use that website for that particular search. Obviously you wouldn't search Amazon or eBay for updates on a current events story, but they are searched millions of times for products. If you make purchases through eBay or Amazon, selecting one of them from the search bar simplifies the process of searching for a product.
You can also set one of them as your default search engine. Here's how.
Click the three bar hamburger icon at the far right side of the address bar.
From the menu that opens, select Preferences on Macs or Options on Windows.
From the menu on the left, select Search.
On the Search setting pages, go down to the second section — Default search engine.
From the drop-down box choose Bing, Google, or DuckDuckGo.
If you make frequent searches on Amazon, eBay, or Wikipedia, you could make one of them your default.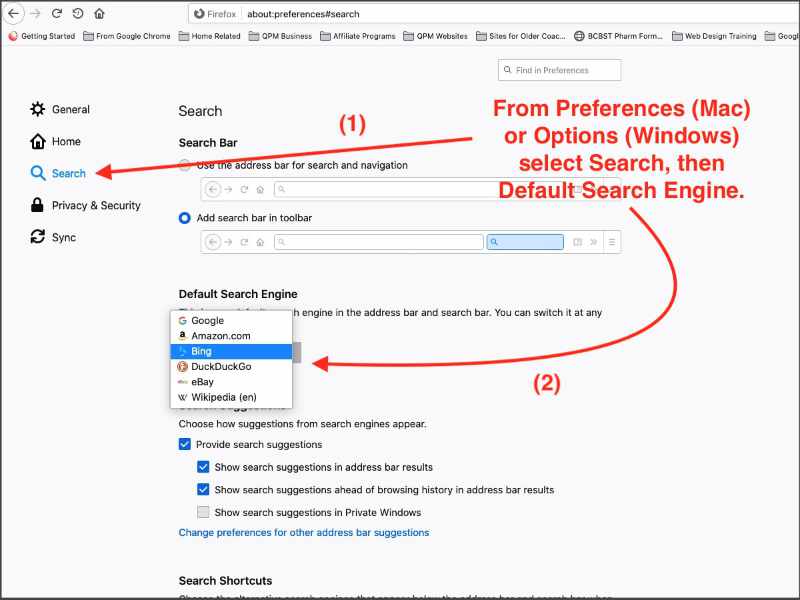 Add additional search engines to Firefox
Firefox allows you to add additional search engines beyond those that are available when Firefox is installed.
Unlike Chrome and Edge, additional search engines are added to Firefox as extensions.
Follow the instruction given previously for opening the Firefox Preferences/Options page.
On the same settings page where you selected Bing, Google or DuckDuckGo, scroll down past the Search Shortcuts section.
You should see a link labeled Find more search engines. If you click that link, you'll go to the search tools category in the Firefox extensions section of Mozilla Add-ons.
You'll find options such as Ecosia, Yandex, and Giphy. For some the extension will add the search engine as an option in the search bar. Some will allow you to pick them as your new default search engine.
Occasionally, when you follow a link from a search, you will be asked to allow popups. You can follow these instructions to allow popups in Firefox.
You can also change the default search engine in Chrome.
Official Firefox documentation
For more information you can check out Mozilla's official Firefox documentation.