Like a lot of other people, writers and other creatives often look for ways to control expenses related to their craft. One area of concern to some is the software apps they use to do their work. With many apps moving to the subscription model, some writers are looking for less expensive, or even free, alternatives. If LibreOffice is a Microsoft 365 alternative for writers and other creatives, is it a good one?
Table of Contents
My short answer is yes. While the cloud based features that Microsoft 365 offers are definitely useful, many users don't need them.
An example would be collaboration tools that allow large teams scattered around the world to work on projects together in real time and even communicate by video from within Microsoft 365. Some of its capabilities depend upon other apps that are part of the Microsoft 365 business plans.
Most authors—especially indie authors—don't do their writing with a large group of co-workers. They may still collaborate with others, though, but on a much smaller scale. That could be worked out without having to pay for upgraded levels of Microsoft 365.
Read on to see why I believe LibreOffice is a viable alternative for Microsoft 365 for most indie authors.
How is LibreOffice a good Microsoft 365 alternative?
For purposes of this article, I'll make my comparison of LibreOffice to the Personal and Family versions of Microsoft 365. This comparison is written with writers, other creatives, and home-based businesses in mind.
LibreOffice includes the following apps:
Writer – compares to Word
Calc – compares to Excel
Impress – compares to Powerpoint
Base – compares to Access
Draw – allows you to create simple or complicated drawings and other graphics.
Math – allows you to create formatted math and scientific formulas.
Charts – helps you create charts. You can then insert them into spreadsheets, documents, and presentations.
Microsoft 365 Family or Personal Edition includes the following apps:
Word – document processing
Excel – spreadsheets
Powerpoint – presentations
Outlook – email
OneNote – similar to EverNote
OneDrive – 1TB of cloud storage
Skype – Online discussions – 60 minutes/month (May not be available in the Mac version.)
Access – create databases (Windows only)
Publisher – design publications (Windows only)
Certain apps/capabilities listed separately under LibreOffice are available within Word and Excel in Microsoft 365.
What about the Microsoft 365 ribbon? Does LibreOffice have one?
If your concern is that you've become so attached to the ribbon (the default toolbar) in Microsoft 365 that you wouldn't be able to acclimate yourself to LibreOffice, take a look at this article where I explain how to turn on LibreOffice's version of the ribbon.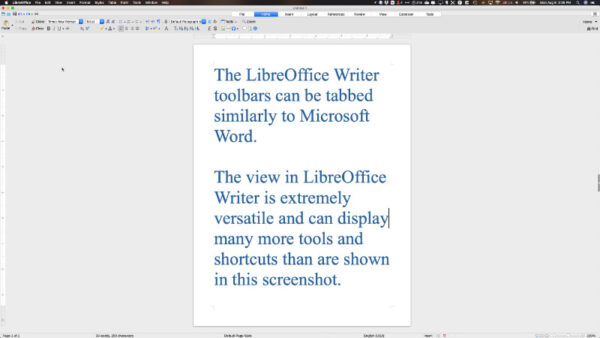 Mobile device use – LibreOffice vs Microsoft 365
A paid Microsoft 365 subscription includes mobile apps for Android and iOS.
LibreOffice is available for mobile devices under the brand name Collabora Office.
Online availability – LibreOffice vs Microsoft 365
A word of caution. Be aware that online only versions of LibreOffice or Microsoft 365 are just that—online versions. In other words, if you lose your internet connection, you cannot continue to work on your documents.
If you frequently need the ability to work on your documents where there is no internet connection, the online versions probably aren't the best for you. You'll need the local versions installed on your computer. LibreOffice will fill that need. Microsoft 365 will if you have a paid subscription that allows the apps to be downloaded and installed on your computer.
You should also be aware that if you only use cloud storage, you may not have access to your documents if you lose your Internet connection.
Be sure you install and use the sync app from your cloud storage service if one is available. You may still have access to your documents via the sync app.
Online versions of LibreOffice are available through certain businesses that offer it as Saas (Software as a service – online), but those are primarily directed toward enterprise users.
The core apps of Microsoft 365 are available online free of charge at Office.com. The apps available there are not as fully featured as those in the Microsoft 365 subscriptions.
You can read an exhaustive comparison between LibreOffice and Microsoft 365 here.
How LibreOffice Writer compares to Ms Word
In terms of capabilities that most writers would welcome, three LibreOffice Writer features stand out to me above Microsoft Word. Those features are:
The ability to open documents written on Macs in the .pages format.
The ability to export directly to .ePub.
The ability to export a LibreOffice Writer page as an image.
MS Word has better bibliographic capabilities and better grammar/editing features built in. It is also better for synchronized collaborative writing and editing.
Additional features for writers can be added to LibreOffice Writer via extensions, but Word in Microsoft 365 subscriptions has more available without additional add-ons.
Microsoft offers a massive amount of support information for Microsoft 365 online. It is scattered across thousands of pages at support.Microsoft.com. You can find answers by using the search function on their website.
While Microsoft's support site is very helpful, I like that LibreOffice has manuals for different versions of the individual apps within LibreOffice.
You can find free downloadable user manuals for LibreOffice here. The online help portal for LibreOffice is here. In my opinion, the downloadable manuals is a vote in favor of LibreOffice as a valid Microsoft 365 alternative.
Can LibreOffice Writer work with ProWritingAid?
Yes, LibreOffice Writer can work with ProWritingAid.
There is no direct add-on or extension that allows ProWritingAid to work inside LibreOffice as there is for Microsoft Word for Windows, but you can use it by copying all or part of a document and pasting it into ProWritingAid online.
You would run the reports in ProWritingAid and make any edits that need to be made, then copy and paste it back into LibreOffice Writer.
You can also save your LibreOffice Writer document as a .docx, .rtf, or .txt file and import it straight into ProWritingAid online.
For Premium ProWritingAid users there is also a desktop app for Windows and Mac computers. You can import .docx, rtf, or .txt files that you create in LibreOffice Writer into the ProWritingAid app.
As a side note, there is no ProWritingAid add-on for Microsoft Word on Macs as there is for Windows users. In its place, the desktop app is one way Mac users can take advantage of ProWritingAid. You can also import the file into ProWritingAid online.
Can LibreOffice Writer work with Scrivener?
Yes, LibreOffice works with Scrivener. The best way to start is to save your LibreOffice Writer file as a .docx file. Just as if you were importing from Microsoft Word into Scrivener, save your file with chapter titles as H1s.
When you import into Scrivener, it can use those chapter headings as indicators where it should break your work into chapters or sections.
If you know how to import from MS Word into Scrivener, you also know how to import from LibreOffice into Scrivener. It's the same process.
Can LibreOffice Writer work with Vellum?
Yes, Vellum can import files from LibreOffice just as it can from Word. The trick is to prepare and save your .docx file just as you would had you written it in Word. Vellum will be able to import and format your book from that file.
Does LibreOffice have a spreadsheet app where I can track scenes, lead characters, etc.?
Yes, as mentioned in the comparison earlier in this Tipsheet, LibreOffice has an app called Calc which can open .xlsx files from Excel, .csv files, and many others.
Is LibreOffice really free of charge?
LibreOffice is free with no strings attached. It is a project of The Document Foundation, a not-for-profit organization promoting the free use of software. It is open source software that is based on the original OpenOffice.org software.