All respected writing software that I'm aware of includes the capability to count words. Some are more detailed in their approach than others. In this article, I'll show you how to count words in OpenOffice Writer.
Table of Contents
This tutorial includes images from the Windows and Mac versions of OpenOffice Writer. The panels are different visually but include the same settings whether on Mac or Windows computers.
How to count words in OpenOffice Writer
OpenOffice is not a new app by any stretch of the imagination, but it has a very minimalist approach to word count.
To count words in OpenOffice Writer documents:
Open the document.
Go to the Tools menu at the top.
Select Word Count.
A box will open that displays two sections. The bottom section displays character and word counts including spaces for the entire document.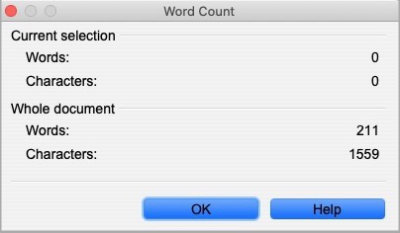 How to count words in a selection of text in OpenOffice Writer
There are two ways to see the word count in a selection. The first is to select your text, then look in the word count area near the left side of the footer bar.
The second method for finding the word count of a selection of text in OpenOffice Writer is via Word Count in the Tools menu.
The top section will indicate the number of words and characters including spaces in a selection of text.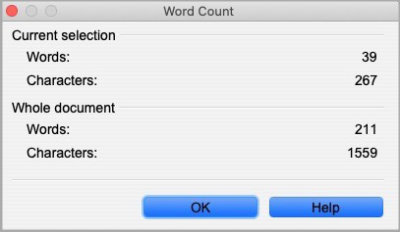 There must be text selected within the document to display a count in the top section.
See additional document statistics in OpenOffice Writer
In OpenOffice Writer you can see a more complete list of document statistics from the File menu.
To see those statistics:
Open the File menu.
Select Properties…
Open the Statistics tab.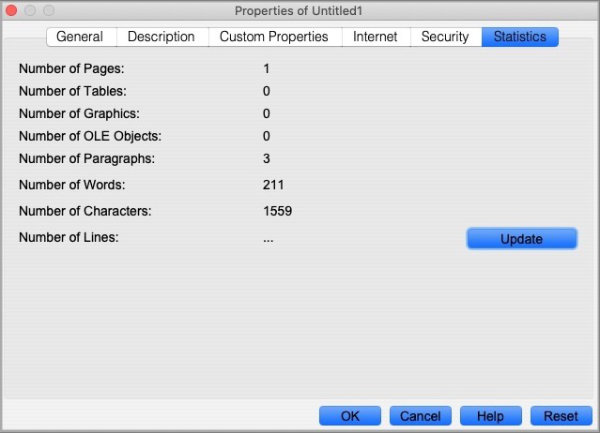 In addition to your word count, you'll also see the following statistics.
Number of pages.
Number of tables.
Number of OLE objects (such as linked images).
Number of images.
Number of paragraphs.
Number of characters (numbers, letters, symbols, etc.).
Number of characters excluding spaces.
Number of lines.
Additional resources
If you are writer who expects to format your work into a book, you might be interested in our article How Many Words Are On a Page?
You'll find official OpenOffice documentation here.