MailerLite is an excellent choice when indie authors, musicians, or small business owners set up a mailing list for marketing their work.
Table of Contents
I've had accounts with other mailing services, but I find that I get the greatest value for dollars spent by using MailerLite. Here's how to get your website approved by MailerLite.
Is MailerLite Good for All Websites?
Most honest and ethical websites can find MailerLite to be a good match for them. But because MailerLite takes steps to limit the damage that unscrupulous account holders might do to the service's delivery reputation, they are not necessarily for everyone.
Like most mailing services, MailerLite has a list of business types that aren't allowed. For example, they don't allow their mailing services to be used for emails promoting gambling, get-rich-quick schemes, or MLM, among other things. You can read the full list in point number nine here.
There is one exclusion that causes some potentially allowed users to bypass MailerLite. That is their objection to having their services used by affiliate marketers. I spoke to them about that exclusion. MailerLite is not opposed to customers including affiliate links in their emails so long as the links are appropriate for the audience their website is focused on. They draw a distinct line between affiliate marketers and affiliate links. Read MailerLite's more thorough explanation in point number eleven here.
How Do I Get My Websites Approved by MailerLite?
When a new customer applies for an account at MailerLite, there is an approval process that takes place. They will check your email domain ownership. You will have a much greater chance of success having your account approved if you own the domain name that your email address is attached to than one of the huge email providers such as Gmail. For example, you will have a greater chance of acceptance if the address you use when you apply for an account is News@MyOwnDomainName.com than if it is news@gmail.com.
When I first applied for an account for TheTechieSenior.com, MailerLite rejected the application. I discovered the rejection when I logged in to see if the application for this website had been accepted. They weren't real forthcoming in the rejection notice. Personally, at the time, I wasn't too impressed by that. I thought they could have given more detail there or email the specific reason so the site owner knows what to correct.
But, to their credit, they promptly answered my email when I asked why. (Note: You can have any number of separate websites under your name with MailerLite. But each website will have its own account and plan. I already had an account because I had another site on a plan with them.)
My application for a MailerLite account was rejected at the time because this website was still in the development stage. There was some content on the site, but the site had not gone public yet. Therein was the rub.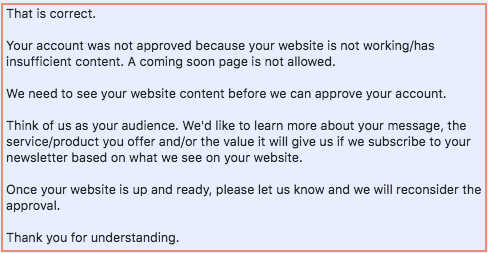 MailerLite will not accept applications for sites that their representative cannot visit and see first-hand what it is about.
I replied to their rejection notice. I questioned how I was supposed to have a mailing list set up and ready to go on launch day if I could not get an account until after the site went live. They weren't swayed by my question and offered the same reply—very politely, I might add.
Basically, to protect their reputation as an email sender they do whatever they can to insure that their customers are who they say they are and that their content meets the standards that MailerLite requires.
Can I Resubmit My Website to MailerLite?
Because I had used MailerLite on another website, I decided to hang on and try again when this site went live. I replied again to their initial rejection notice. Almost immediately, they approved the application and we were ready to move on with setting up our mailing list.
MailerLite is a great company with excellent service and support, in my opinion. Tech support is pretty quick, even using support by email. With a free account, support is via email. Paid accounts enjoy live chat support. In my experience, chat support usually answers in five minutes or less and is very quick to answer your question.
If you want an account with MailerLite, at the least you should follow these suggestions.
Don't apply until your website is live. (There are circumstances where they will approve an account for a potential client without an existing website. Contact MailerLite for more info about that.)
Be sure your website does not violate their list of acceptable business categories.
Be sure your website's content does not violate their Terms of Use.
Be sure you apply with an email address that is based in a domain that you own.
If you follow those suggestions, getting your websites approved by MailerLite will be much easier and quicker.
Once your MailerLite account is approved you'll need to add subscribers.