Whether you're just starting your mailing list or have an existing group of subscribers that you are moving to a new mailing service, you need to know how to add subscribers to your list. In this article you'll learn how to add subscribers in MailerLite, the service that we use.
Table of Contents
We're not talking here about the ways you can locate and attract subscribers. We're looking at the ways you can actually add them to your list.
Add new subscribers using the official MailerLite plugin for WordPress
MailerLite offers a plugin to their WordPress users. Once it's installed, you can either create a form inside the plugin, or use it to place a form that you've previously created inside your MailerLite account. You can place those forms using a shortcode or in a MailerLite widget.
I have personally used the plugin. I had no problems with it but I find it just as simple to add the form code directly to the website without the plugin.
If you are one who wants a more custom look for your sign up form, there are plenty of other WordPress plugins that can do that for you. In the next section I'll discuss one of those plugins, one that I've used.
Add subscribers in MailerLite using a generic WordPress plugin
The most common method of adding new subscribers is via a subscription form on your website. The form may be a permanent item in your sidebar or in your articles. Or it may be on a landing page where you send new subscribers who are coming from off-site promotions.
There are many ways to add subscription forms. In WordPress, some themes include form elements that allow you to add forms without the aid of an additional forms plugin.
You're not tied to the theme's built-in forms feature, though. For example, this website is built using the Avada theme.
Avada does not natively connect to MailerLite in its form builder in the sense that you might do so by just inputting your MailerLite account info and the list name.
Avada's form element will display forms that you've created in your MailerLite dashboard if you input that form's HTML into the Avada form builder. However, I used a different method to display the subscription form that appears at the end of this article. I'll explain later in this article how I did that.
There are dozens of subscription form plugins available on WordPress.org plus many more that are available for purchase on other websites.
One that I have used on other sites is the Bloom email opt-in plugin. It is from the people who created the Divi theme, but can be used with practically any theme. Connecting Bloom to MailerLite is very easy. You can use Bloom to design your sign up form then connect it to your MailerLite account. You are not restricted to using the form design options that MailerLite provides in the dashboard.
The exact instructions for connecting MailerLite via plugins might vary from one plugin to the next, but most of them have easy to follow instructions. You basically just give the plugin the information it needs to connect to your MailerLite account and the particular list within your account that you are connecting to.
Show MailerLite forms on your website using the Ad Inserter plugin for WordPress.
It may be that the theme you use does not display your form exactly where or how you want it. If that happens in your case and your site is built on WordPress, you might want to try the Ad Inserter plugin for WordPress.
That is the method we use to display the subscription form at the end of each article. For a couple of reasons, the form did not display quite like we needed it to when we used the Avada form element.
There are situations when the form element will display the MailerLite form perfectly. Every website is different and sometimes small things behind the scenes can dictate the use of a different method than one might normally use.
Ad Inserter is useful for displaying site elements other than ads. To display our subscription form, we added the MailerLite form HTML as an ad in Ad Inserter and set it to display that "ad" after every post. The result is what you see on this page.
Other WordPress ad insertion plugins (or extensions in Joomla) should work similarly.
MailerLite works with practically any site, including sites that do not run on WordPress.
I'm sure there is an exception somewhere, but in most cases, you can insert the HTML code for the form that you created in your MailerLite dashboard directly into any website.
Collect MailerLite subscribers outside of your main website
MailerLite integrates with a number of services outside your WordPress (or other) website.
For example, you can connect your MailerLite list to BookFunnel. Doing so allows you to add the email addresses of people who download your book through BookFunnel to your list.
You can connect directly to Prolific Works (InstaFreebie).
MailerLite also has integrations with Shopify and a number of other services, including a few hundred that you can connect to via a Zapier connection.
Use the MailerLite Manager iPhone app to add subscribers
You can download the MailerLite Manager app for iPhone. In that app you can see an overview of your campaigns and your subscribers. You can add new subscribers by clicking the center icon at the bottom, labeled Subscribers. Once there, click the green person icon near the top right to add a new subscriber.
There is a MailerLite subscriber app for iPad coming sometime in 2022. That app will allow you to have people subscribe to your mailing list at book signings, etc..
Add new subscribers manually in the MailerLite account dashboard.
You add individual subscribers to your mailing list by logging into your MailerLite account.
Click Subscribers in the top menu.
Click the orange Add Subscribers button.
On the Add Subscribers page you'll see four ways you can add subscribers.

You can import a csv/txt file.
You can import an Excel file.
You can import subscribers from MailChimp.
You can manually add individual subscribers.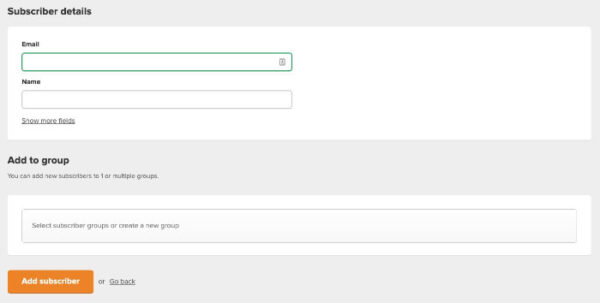 If you import lists of subscribers, MailerLite will not send them a confirmation email because they assume you already have the subscribers' permission to send them email.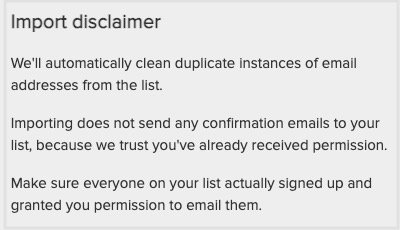 If you have double opt-in activated on your list, MailerLite will send a confirmation email to addresses that you add manually.
Be sure your imported lists meet MailerLite's criteria
MailerLite requires that every subscriber has given their permission to be on your mailing list. This applies whether the addresses you add are from an existing list or newly added. They do not allow any customer to use lists that are purchased or rented from anyone else. Subscribers must be your own and collected with the subscriber's permission.
You can learn more about MailerLite's policies here.