Adding a menu to your WordPress website is easy. In this article I'll show you how to create a menu in WordPress and add it to different locations in your WordPress site. First, it's important to understand the different reasons that menus are important.
Table of Contents
Menus in WordPress play multiple roles when used properly.
Menus should never be used simply because you need something to fill a place in your website's design. There are reasons that we create menus and reasons that they are arranged in specific ways.
Menus help your visitors find their way around your site.
When I visit websites, I rely primarily on two tools to help me find what I need. One is the search bar. But the primary one I use is the navigation system that is provided by the site's menu(s).
We depend on the menu structure within the site to guide us from point A to point B. If we are on a website that discusses parts of a vehicle, we might look in the navigation area for a section titled Engines, or Transmissions, or Tires. We might click "Tires," then find links to different sizes or types of tires. Clicking those links helps us to navigate a website that could have a few dozen pages or a few thousand pages.
Menus can act as a kind of road map to help search engines find your content.
Just as your site's navigation menus help your visitors find their way through the categories of information on your site, so do they help search engines spider your site and locate the content you have available. There are other methods that search engines use such as sitemaps, but one of the most important tools they use to find your content is to follow your navigation menus. They may see the categories in your menu, then follow the links to the articles within those categories. Your site must have a coherent and well organized navigational structure if search engines are to use it to your full advantage.
Menus can help you visually organize your content.
Have you visited a website and noticed the links in the footer or at the very top of the page for the privacy policy, terms and conditions, etc.? Within WordPress, those links are almost certainly a menu the site designer has set up to make those pages easy for you to find. In addition to the possible requirements of some laws and services that a privacy policy be linked to from all pages, it just helps to clearly set those pages apart from the your other content. On this site, our legal menu is just that – a separate menu created to help you find those pages easily.
How many menus can a WordPress website have?
Technically, WordPress will allow you to have as many separate menus as you think you need. It is important to understand that while WordPress provides the mechanism for setting up the menus and dividing your content among those menus, it is the theme that determines how many menus you can display and where on the page they are allowed.
Some basic themes may allow only a couple menus. Other, more advanced themes may allow as many as you wish and to have them placed wherever you wish them to be. More is not always better, but if your site design calls for them, and they serve a legitimate purpose within the site's design, you can find a theme that will allow you to do just about anything you need to do with your navigation.
How to create a menu in WordPress
Note: The instructions given below apply to the classic menu options. They will be useful in most standard themes and page builders that are not designed for FSE (Full Site Editing) which is available in WordPress 5.9. With Full Site Editing, menus are built in the Gutenberg/Block editor. If the theme you are using is designed only for Full Site Editing, menus will not appear under Appearance in the WordPress dashboard.
There are two ways to create menus in WordPress. Here's how to use the oldest of the methods.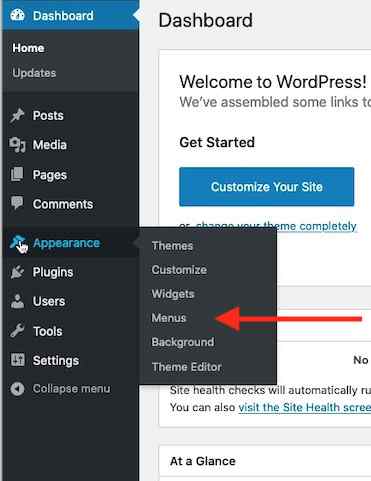 Open the WordPress dashboard. About half-way down the left side menu look for Appearance. Mouse over Appearance to see the fly out menu and look for Menus.
Click on Menus. The page that opens is where you create and manage your menus. At the top of the page next to the word Menus, you'll see a button that says "Manage with Live Preview." Ignore that button for now. We'll cover that method a little later.
A couple inches below the word Menus, you'll see a heading that says "Add Menu Items" and to the right of those words, another heading that says "Menu Structure."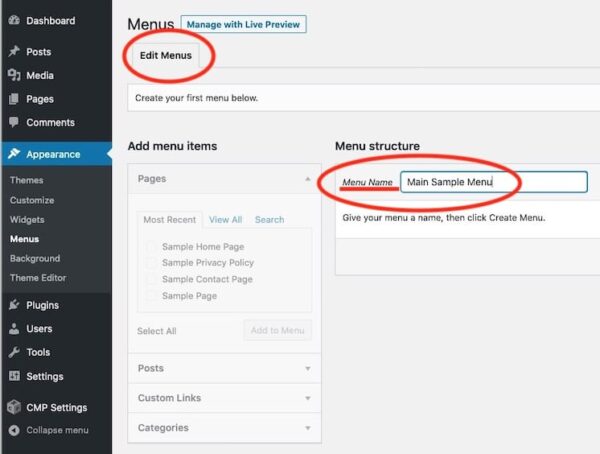 Below "Menu Structure" there is a text box labeled "Menu Name." In that box you will type in a name for your new menu. I would advise you to use a name that will be meaningful to you as you build out your website. For example, you might want to name your primary navigation menu something like "Main menu." If it were your menu for legal pages like privacy and compensation policies, you might want to name it simply, "Legal." Those names will be useful when you are telling WordPress where to display the menus and you have to decide which one goes where. The names you give your menus aren't seen by your readers.
When you have chosen a name for your new menu, be sure you go to the far right side of the page and click the button that says "Create Menu." If you did not choose to customize the WordPress dashboard color scheme when you set up WordPress, the button should be blue.


How do I assign categories or pages to a WordPress menu?
Your menu is useless to your readers and to search engines until you assign items to it. You can assign the following to any menu, as long as they already exist at the time you create the menu.
Posts.
Pages.
Categories.
Custom links.
One example where you might use a custom link is when you have a separate shopping cart or other feature installed in a subdomain that doesn't show up inside WordPress.
To assign items to your menu, first create the items, whether it is blog posts, a contact page, or a certain category. Under "Add Menu Items" you will see boxes labeled Pages, Posts, Custom Links, and Categories. Click on any of those and you will see the pages, posts, and categories that are active (published) at that time. The Custom Link box will give you a place to type in the link to your external feature.
When you open any of the three content boxes you'll see a link titled "View All." Click that link and you'll see a list of posts, pages, or categories that are available to add to the menu. Check the box to the left of the titles or categories that you wish to add to your menu. Then click the "Add to Menu" button. You'll see your chosen items displayed to the right in the Menu Structure section.
Can I change the order of items on my WordPress menu?
Yes, you can. In the Menu Structure section, mouse over the title of the page, post, or category that you wish to move. When your cursor changes to a bold icon similar to a "plus" sign (+), drag the item up or down wherever you want it.
If you want the item to be a sub-item under another, drag it into position then to the right slightly. It will show up on your live menu as an item under the main item just above it in the Menu Structure section.
How do I set the location of my menu in WordPress?
The locations that are available for your menus depend mostly on the particular theme you have chosen for your website.
To select the location for a menu go to Appearance > Menus. Near the top of the page, just under "Menus," you should see two tabs. The first says "Edit Menus." The second tab is labeled, "Manage Locations."
In the "Manage Locations" tab, you'll see a list of the locations where you can assign menus. These locations may change depending upon the theme that you've chosen. But the basic WordPress installation will give you give five locations to choose menus for.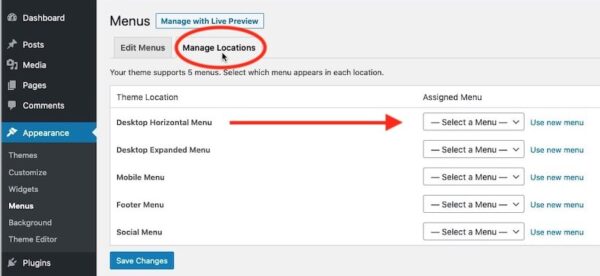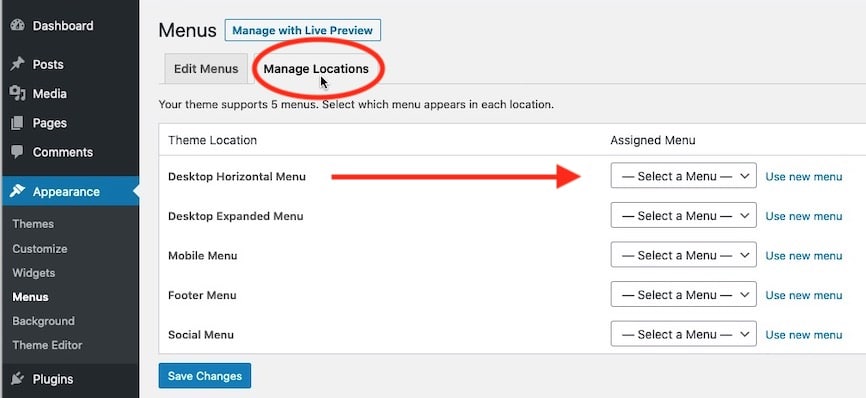 To the right of each location there is a drop-down box where you'll find the names of the menus that you have created. Choose a menu for each location and click the "Save Changes" button to save your selections.
To the right of the drop-down boxes where you selected your chosen menu, there is a link labeled "Use new menu." If you click that link you will be taken back to the page where you originally created your new menus.
Managing Menus Using the WordPress Customizer and Live Preview
You can also use the Customizer and Live Preview to create new menus and arrange the order of menu items.
One way to get to the menu customizer is to click the "Manage With Live Preview" button at the top of the same page where you were just working.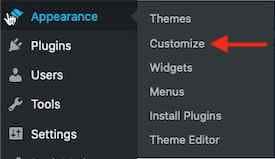 You can also use the menu customizer from the WordPress Dashboard menu. Under "Appearance" select "Customize" to open the Customizer. Once in the Customizer, click "Menus."
If you have been through the steps I described above to set up a menu and assign items to it, you should be able to easily use the Customizer to create and set up menus. The same features that are available in the main Menus page at Appearance > Menus are available in the Customizer.
Reorder Menu Items Using the WordPress Customizer
One added feature in the Customizer pertains to how you rearrange items within your created menus. You can either drag the items up and down, or you can click the link below the added menu items which says "Reorder."
The "Reorder" link changes the menu items so that there are up or down arrows on each item that you can click to move the item wherever you want it.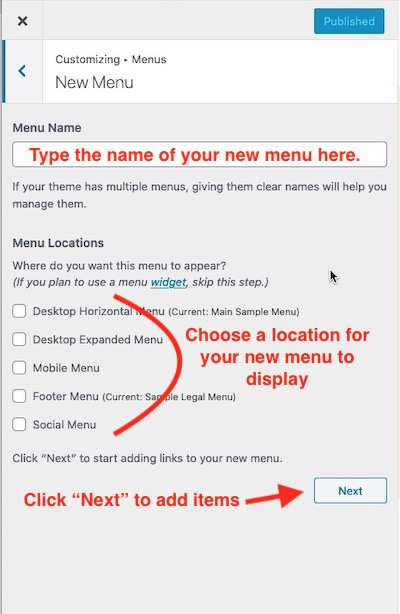 Assign Menus Using the WordPress Customizer
To assign your menus to specific locations using the Customizer, from the WordPress Dashboard go to Appearance > Customize.
In the Customizer, select "Menus." Look for "View All Locations," at the bottom of the menus section and click it to see a list of locations that you can assign menus to.
Under each of the listed locations there is a drop-down box with your newly created menus listed and a link just below each drop-down box that opens a section where you can create a new menu. You'll find the same options here that are available to you in Appearance > Menus, where we originally learned to create new menus.
A Final Word about WordPress Menus.
If you have created one menu using either method in WordPress, you can create as many as you wish. You can then assign them to the locations that your theme allows. Be creative, but logical with them. Use the design features of your theme to make your menus attractive and easy to use. Just remember the primary purposes for menus as you go.