Does Vellum allow users to use just one print, or trim size? Or does it offer a variety of available sizes? In the article, we'll take a look at how to change the print size in Vellum, as well as some caveats.
Table of Contents
How many print sizes can Vellum format?
Vellum gives you the ability to format books in eleven U.S. and international sizes for standard books, plus three large print sizes and three mass market sizes. You'll find those print sizes listed in our article, Formatting a Book for Print in Vellum.
How to change the print size in Vellum
Change the print size in Vellum from the File menu.
Go to File.
Select Print Settings.
In the top right corner of the size panel, select Centimeters (cm) or Inches (in).


Vellum's print settings panel. Click the More Options… button to open more trim choices.

Select your preferred trim size. You should see four commonly used sizes displayed with images of books in relative proportions. If you don't see your desired size, click the More Options button to open the remaining sizes and other options.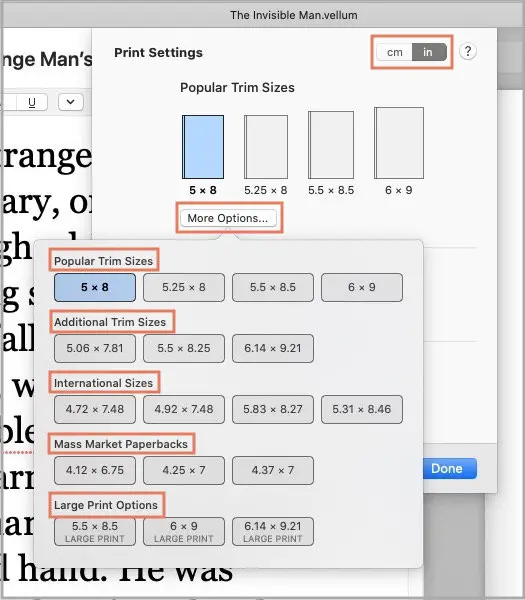 The trim size is the size your finished book will be after it is printed and trimmed on the top, bottom, and right side. The printing service you use may offer more trim sizes or fewer than Vellum provides.
Below the trim sizes, there are settings that allow users to alter the margins , change fonts, and increase or decrease line spacing for any of its print sizes.
The default settings for margins, font sizes, and line spacing are optimized for each trim size and should be fine. However, you are allowed to alter them to some degree.
Custom print sizes in Vellum
You cannot create trim sizes beyond the available presets.
Vellum is very good at what it was designed to do—format fiction and non-fiction books for paperback and hard cover. While Vellum is an excellent product and one that I personally use and endorse, it is not necessarily for everyone.
At present, there are no trim sizes available that one might consider specialty sizes.
All standard sizes are in portrait orientation with the binding on the longest edge. They are narrower than they are tall. Most indie and traditionally published fiction and non-fiction books are designed and laid out in portrait orientation.
Because there are no available landscape trim sizes that are wider than they are tall, Vellum may not be right for you if you want your book to be bound that way, with the binding on the shortest edge.
There are no square trim sizes available in Vellum.
There are currently no large size layouts available in Vellum. Books that are designed as coffee table books would not be a good fit for Vellum because there are no trim sizes that large available.
Cautions about small print sizes
Smaller print sizes may cost more to print than larger sizes. That is because, in general, the number of pages increases as the trim size decreases.
Most print on demand printers base their printing prices on a certain price per book plus a per page cost. The price is based on pages and indirectly on leaves (sheets of paper) in the book. There is a blank or printed page on each side of a leaf.
At the bottom of the print size settings panel, you can see the number of pages your book will contain. The number may increase or decrease as you try out different sizes.