Vellum is an incredibly easy to use software designed to convert Microsoft Word files into beautifully formatted eBook files and PDFs for printing. You typically import a ready to publish .docx file, but can you edit in Vellum if you need to?
Table of Contents
Can you edit in Vellum?
Yes, you can edit in Vellum. But it's best to first understand Vellum's intended place in the book production process.
Is editing in Vellum right for you?
Vellum's primary function is to take an MS Word .docx file that contains the text of your book and transform it into eBook files that will work on all eBook platforms.
It can also, at the same time, create trouble-free PDFs that can be uploaded to print on demand providers such as Ingram Spark, Amazon KDP and others.
The majority of Vellum's functions are geared toward the production of those final files.
To determine whether editing in Vellum is right for you, consider the following questions.
Did you write your book in Word or another similar app then import it into Vellum?
If you are a writer who prefers to write from start to finish in Word or a similar app and work within its boundaries, editing in Vellum will be easy for you. You'll probably find Vellum's bare-bones text editor welcoming.
Your book will still be arranged in the same order as in the original file. It will just be separated into front matter, individual chapters, and back matter. You would work on one chapter at a time.
If that is your work method, you should have no trouble editing in Vellum.
Did you write your book in Scrivener or a similar app?
You can rearrange chapters in Vellum by dragging them up and down in the Navigator panel like you move them around in Scrivener's Binder.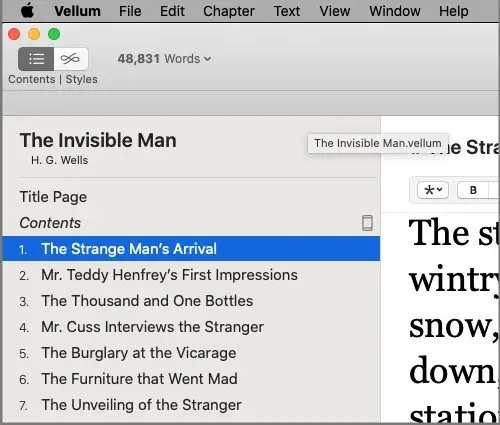 Vellum does not have a system that compares to Scrivener's cork board on which you move cards around to rearrange your work. Vellum does not have an Outliner.
If your writing and editing process involves writing in smaller pieces as they come to mind, then arranging them like puzzle pieces, an intensive edit that involves moving bits of your manuscript around will take some adjustment. But it would be no more difficult than editing the same way in Word.
Would you prefer to write and edit your entire book in Vellum?
If you would prefer to write your book from start to finish in Vellum, then edit it, you can certainly do that.
You can write it straight through in one long document, then split it into chapters. Or you can write it one chapter at a time. You would be able to see how your work would look as book pages. Some people find that inspiring in a way.
To write in chapters, you would simply start with a new Vellum file which would open with chapter one ready to write.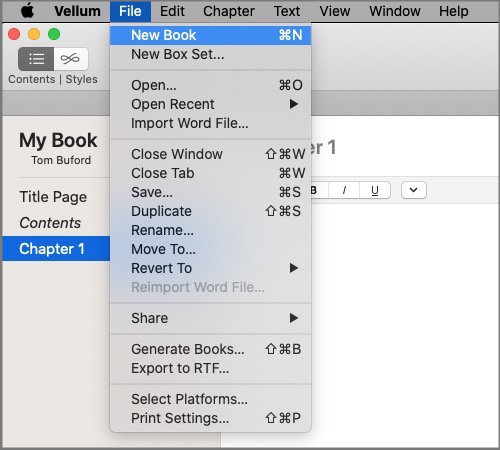 When you're ready for chapter two, simply add a chapter by one of the following methods.
Type Shift + Command + N
Select Add Chapter from the Chapter menu.

Select Add Chapter from the Gear icon at the bottom of the Navigator panel.

The end result would be similar to what you'd get if you were to import a Word file for Vellum to divide into chapters.
Note: It could become a bit cumbersome, but if you like working in small chunks as you can in Scrivener, you can write and edit in short pieces (mini-chapters, if you will), then merge them into one chapter.
Vellum's editing tools
Vellum's text editing tools are limited and basic. That's understandable since its primary purpose is formatting and design of the finished book. There are keyboard shortcuts in Vellum that can also help you work faster.
You'll have the following tools that use MacOS's built-in system.
Spelling and grammar check
Smart Quotes
Smart Dashes
Smart Links
Text Replacement
You adjust the settings for them in Apple Preferences > Keyboard > Text, not in Vellum's preferences.
Do you need to send your book from Vellum to an editor as a Word file?
Do you consider that editing doesn't start until the first draft is completed? Or do you do your initial edits as you go?
Either way, if you need to send your complete manuscript to your editor as a MS Word file, there are other considerations to keep in mind.
Vellum does not export directly to .docx files. But there is a work-around. If you own Word or another app that can save as .docx, you can export from Vellum to .rtf.
Open the .rtf in Word or a Word alternative and save it as .docx.
Send the .docx to your editor and when you receive it from your editor, simply reimport it into Vellum. If your headings haven't changed, the process should go smoothly. I go into more detail in our article Can Vellum Export to Word?
Can you use ProWritingAid to self-edit in Vellum?
Yes, there are two preferred ways to use ProWritingAid to edit in Vellum. The process is very simple.
You can very easily copy a chapter of your book in Vellum and paste it into the ProWritingAid desktop app or into the online editor at ProWritingAid.com.
Make your edits, then paste the chapter back into Vellum. Then move on to the next chapter that you need to edit.
We have a guide on using the online version of ProWritingAid with Scrivener. The process is basically the same with Vellum.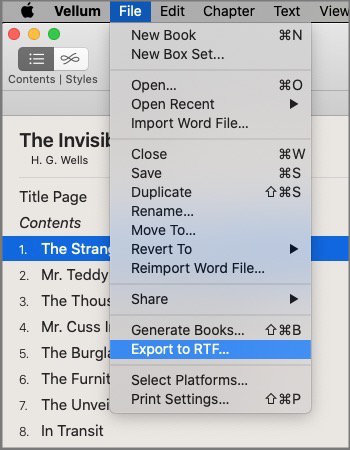 The only way to run the entire book through ProWritingAid at one time is to export your complete book from Vellum  in .rtf format. Import the .rtf file into the ProWritingAid app. You would then make your edits in ProWritingAid, download the file back to your computer, and import it back into Vellum.
The only real hiccup is that you would have to convert the .rtf file to a .docx file before you import it back into Vellum. It's easily done, though. We talk about that in Can Vellum Export to Word.